This past year as a photographer has been a long one; I moved across the country from west Michigan to Albuquerque, New Mexico without a plan other than to test my creative thinking and explore new heights in photography. I made the front page of Reddit with my photography, showing my work to more new people in one day than I could possibly fathom. I got published in multiple magazines throughout the year, and overshot some goals of mine in the process. And I created this, a blog, to showcase my work, as it progresses, and to show the new connections I have made along the way.
So I wanted to go through and give you a collection of my favorite photos I've taken so far this year, and ask what you think of them. Also, if you have any questions, please comment below and I'll answer them. All of these photos are my favorites that have been taken within the last 12 months, while living in Michigan, and New Mexico.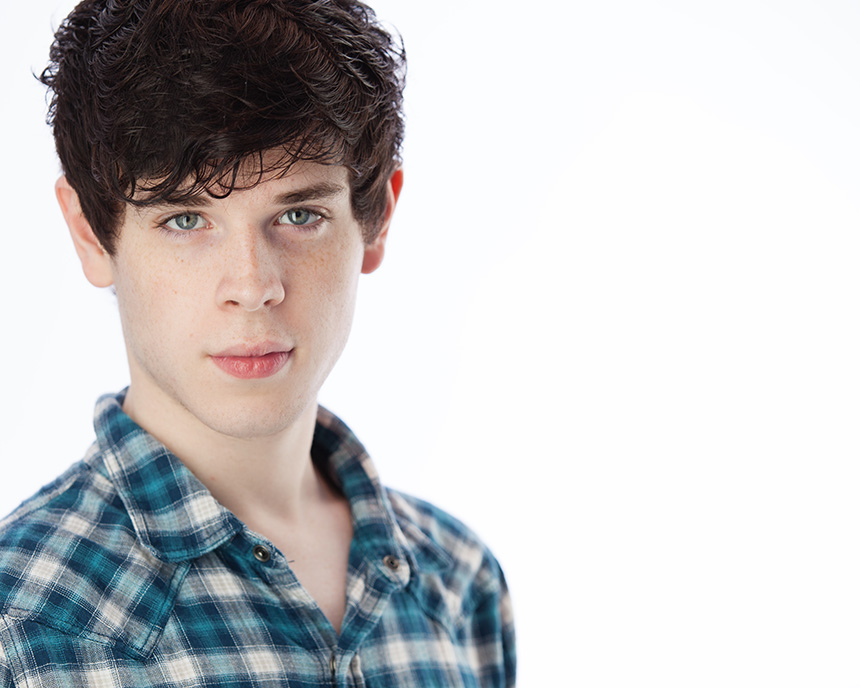 This image is important to me simply for the lead up to it. I was contacted by a professor at a local college while living in Michigan that teaches an acting class. She had seen my work, and wanted to know if I was interested in doing some headshot work for her class. I agreed, as it was something I had a little experience in, and wanted to improve. I met with Aaron Guest a few days before our shoot for coffee. His overall demeanor was shy and quiet, so I knew during the head shot process, I wanted to catch something out of character and really show his range. We took a lot of photos that day, but this one stood out to me immediately. Its completely different than the average Aaron you meet, and just radiates power and confidence. This photo was the one that told me I knew I wanted to do a lot more headshots of aspiring Actors and Actresses.
Fun Fact
Aaron's acting agency, A&M Talent House is actually located on Santa Fe, NM. Since moving to New Mexico, we learned of each other, and as a result, I shoot with a lot of A&M Talent House actresses and actors. And Aaron is planning on moving to Santa Fe in January to advance his career as an actor.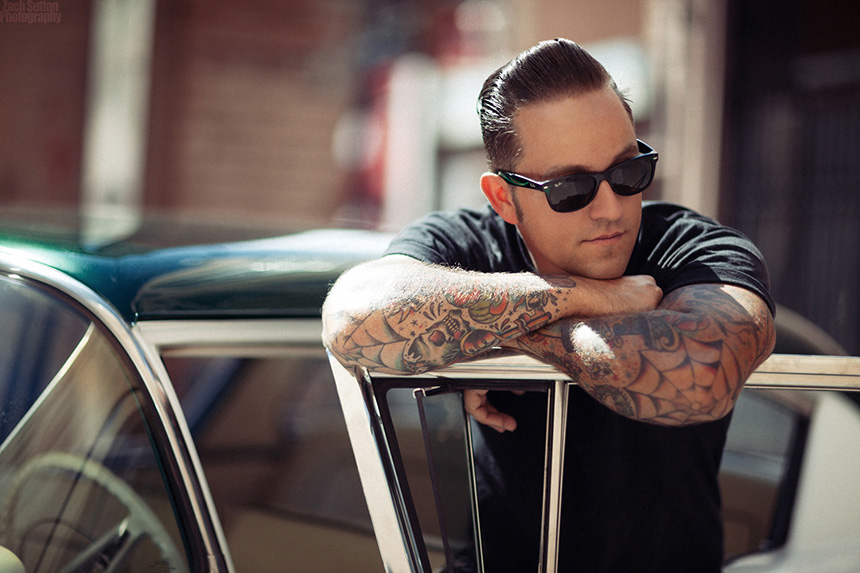 This is a photograph of classic car enthusiast Joshua Boucher. I met him shortly after moving to Albuquerque on a shoot with friend and fashion photographer Randi Trujillo. She asked me to come along and assist on a pin up style shoot she had lined up with a tattoo shop in Albuquerque. I agreed, and reluctantly brought my camera and gear along…as I expected to just be standing around holding a light stand all day. Well, Josh was the supplier of the car. He had this gorgeous 50's Cadillac, in green, white and gold. Him and I talked a little throughout the shoot, and after we were done, I asked that he went and posed with his car so I could get a photo of him with his baby. He agreed, and with only taking a couple photos, I was able to capture this one.
Fun Fact
Joshua actually sold his Cadillac since this photo was taken, and now owns a restored Chevy Bel Air in candy red.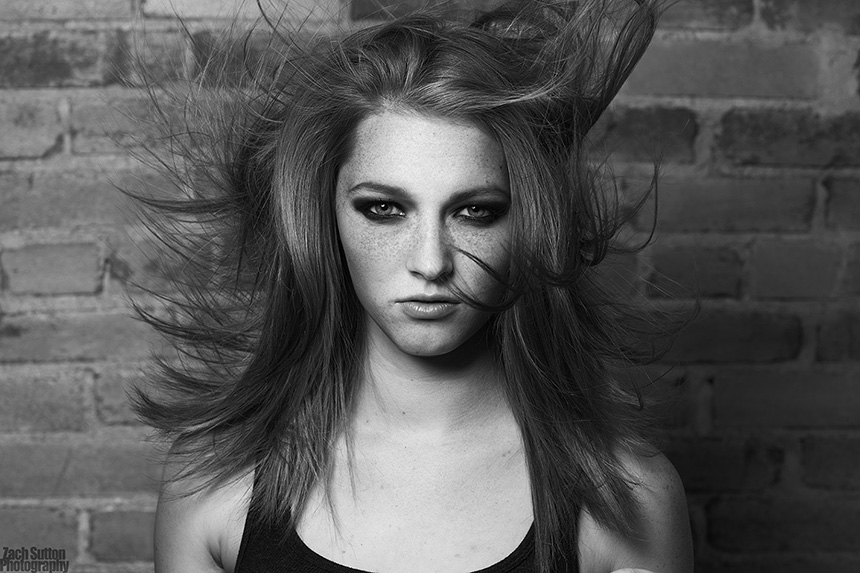 This one is recent, so if you follow my blog and my work, you've probably seen this photo and its explanation a couple times over now. Kenna, 17, and the little sister of B-Rae, a makeup artist I've had the pleasure of working with in Albuquerque for a few photo shoots now. Well, this shoot was put together pretty last minute (In fact, I was looking at inspiration on my phone while makeup was being applied). We just knew we wanted to create some movement, and make her look like a complete badass. This is one of the photos that captured that. I named the photo, Chaos, as she looks vindictive and dangerous in the photo, and while alluring, still gives you a completely uneasy feeling.
Fun Fact
Kenna doesn't actually have many freckles. I added those in Photoshop after looking at the photo and deciding it needed a little bit more to make the image (with agreement from Kenna ofcourse).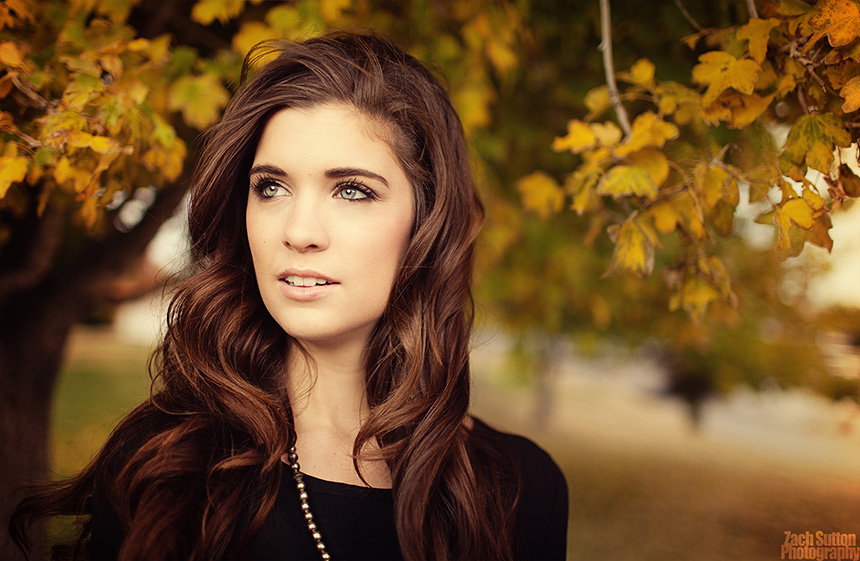 I first heard of Samantha through a fellow photographer named Billy Nguyen. He had a few photos of her in his portfolio, and I immediately noticed how strikingly beautiful her eyes are. We had talked about shooting a couple times, without having anything pan out, until this shoot. We had met at a park, that I had picked out, without actually seeing. But the leaves were at their perfect moment during the color changing process, and I was equipped with my newly purchased 35mm lens. We started getting some photos in front of this tree, and I was immediately in love with all the colors, and her timid and innocent expressions.
Fun Fact
Samantha, even though she is only 20 years old, is already a Licensed Practical Nurse, and works with children with Autism.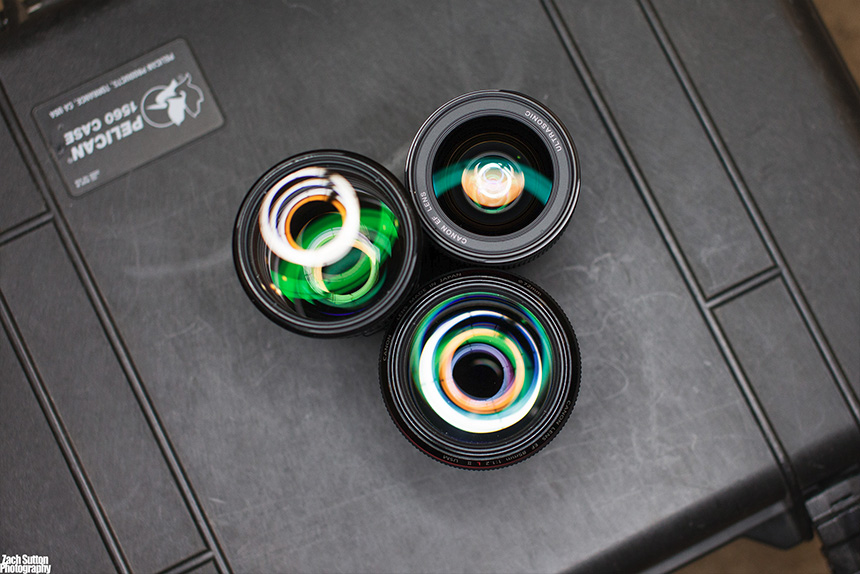 This is what photographers call the Holy Trinity. Its three lenses in the Canon lens lineup that are considered among the sharpest and best lenses available today, the 35mm f/1.4L, 85mm f/1.2L II, and 135mm f/2.0L. Prior to moving to Albuquerque in June, I only had the 135mm, which I largely regarded as my girlfriend. After moving here, I got a large assignment, which allowed me to purchase the 85mm, and recently I sold my 24-70mm lens to finance the 35mm. So a big contributing factor to the changes in my work this last year have came from these lenses. Prior to owning them, I had never shot with them, and they made me think differently about my subject and focal planes. I have absolutely no regrets on any of these purchases, and I'm grateful for each of them, as they're able to get me diversified looks and angles with each photo I take. Now all I need is a 50mm f/1.2L and I think I'm set on lenses. Christmas is around the corner, who wants to make me the happiest guy in New Mexico?
Fun Fact
This photo was taken the day I got my 35mm lens, before I had even used it for anything. And, each and every photograph feature on this entry was taken with one of these three lenses.
So there you have it, my 5 favorite photos I've taken in the last year. I hope that I'm able to look back at these in a year, and smile at how much I was able to improve.